In all the drama over the last couple of days (mostly generated by myself) I completely forgot to post this sketch from Gina Simpson, who liked Peter the Wolf enough to make fan art. And here it is!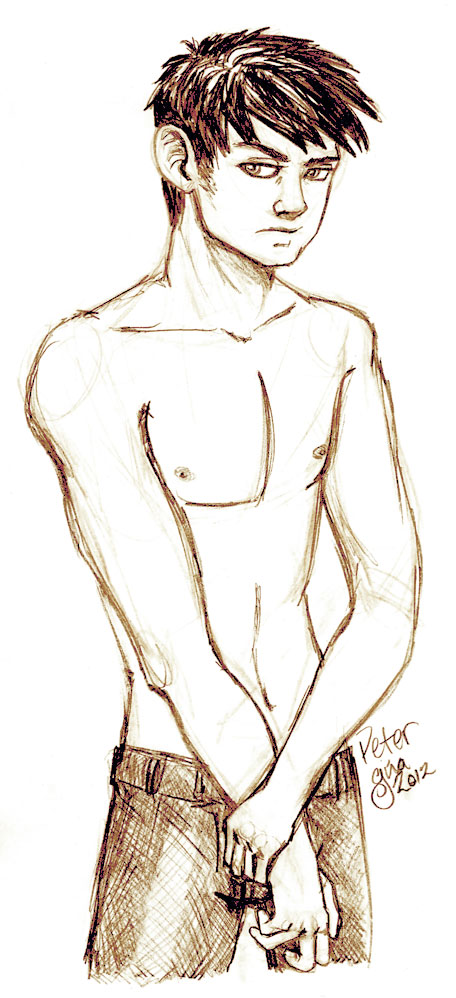 Isn't it fantastic? Gina has already shown me a sketch she did of Edwina Sullen, the vampy main character from my book, My Gay Sparkly Vampire Romance: A Twilight Parody (still free for download in the sidebar menu if you care to try it), and she's said she has sketches of a few other character as well as inspiration to do a couple more characters from Dogs of War. SQUEEEEEEE!
Ahem. Now I'm not saying I need fan art from y'all for any sense of validation. No. NO! But damn it feels really good to see someone say "I took a whack at drawing this character from your books." It's a good sketch too, and I think the expression is perfect for Peter in one of his more brooding moments. He's not too muscular, which is fitting given his work in gymnastics, and yet he's not too thin either. Yes! Zoe totally approves of this fan art. And should she get around to doing fant art of Judy and Tom, I'll happily show it off here too. And not just because I'm squeefully happy to have fan art. No, it's because I think Gina's art is awesome, and I think y'all should check it out too!
In completely unrelated fan squeeing, I'm still deeply in love with Windswept by Gwen Cole. If you haven't at least tried it yet, consider this my poking you with a pointy stick. Try it. Gwen's got a great writing style, and I loved every chapter of her story so far. Can't wait to see how this romantic paranormal YA story of drifters and sliders ends. <3
Right, that's enough gushing for now.